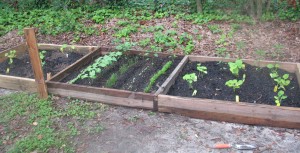 We've had our garden in the backyard for two weeks now and everything is growing beautifully.  We should have lots and lots of veggies by the beginning of July.  We even had to add another 4′ X 4′ section to allow more space for our pumpkins, cantelopes, and watermelons.  However, little by little I've noticed something has been nibbling on my squash leaves.  I decided to ask for help from my facebook friends and fellow gardeners.  We'd like to keep this garden as organic as possible.  The response was great.  A few people told me about planting marigolds around and in your garden to keep away harmful pests.  Another tip was purchasing ladybugs from a local nursery to release in the garden and the ladybugs basically kill the harmful pests.  The thing to remember is, some insects are good for your garden.  Some insects will leave your plants alone and feed on the harmful insects.  The final tip was to mix up a 'recipe' that you spray on all of your fruits and veggies:
1quart hot water
1 garlic bulb
1 small onion
1 tbspn cayene
1 tbspn liquid handsoap
Mix the first 4 ingredients in a blender and let it steep for an hour, then add soap. Pour into a spray bottle and spray on all of your fruits and veggies.
I planted the marigolds today.  I may try the spray a little later in the week if I notice continued nibbling.
Have a great weekend.  We're going to have rain here this afternoon, so we've been working our tails off in the backyard since about 8am.  I'm sure our neighbors love us!! My hubby is building an addition on the back of our house and the saws and air compressor are pretty loud for a Saturday morning!  🙂
 
~audrey