It's been a long week and a short week all at once…is that possible? It's been long because we had lots to do every single day, but because of that, the week went by fast and I'm very thankful it's Friday! Next week I'm hoping for a lighter load and MUCH more time at home to do 'school' with Joshua and catch up on my house work if it doesn't get done this weekend.
On Monday, I finally repainted the bedroom that the foster children will occupy. I really didn't want to spend $30-$40 on a gallon of paint, so I bought a $5 gallon in the 'returned' section. It ended up being WAY too pinkish once I tried a little on the wall. It actually resembled a color much like my grandmother puts on her cheeks…completely awful for a gender nuetral room…or ANY room for that matter! I decided to check the garage and see if we had something I could use. I found the can that contained the paint we used on the boys' bathroom. A very soft and nuetral green. I mixed it with a tiny bit of "Adobe White" that I also found in the garage. Together, that made a full gallon and I spent the next two or three hours painting the walls. I even let Joshua take a roller and help. He did an excellent job and surprisingly, we didn't get paint on anything but the walls and maybe a few fingers. I hung a few things on the wall and got the curtain rod up, and I'm very pleased with how it turned out. This is the warmest this room has ever felt. Even more so than when it was a nursery for Owen. I'm very excited. You may notice above the bed, I tried a new craft that I saw in my latest "Family Fun" magazine. I bought floral wire ($0.67/package), cut up a few fabric remnants that matched the colors of the room, and wrapped the fabric strips around the wire. I spelled the word in cursive because it made it easier to hang. I know, I know, a cursive "m" has three humps, but it just didn't look right when I made it that way, so instead, I only did two humps in my "m" and I added a little hook to the beginning of the "m" to make it look a little more like it's own letter. That was totally random, but I just wanted all to know that I DO know how to correctly write in cursive and the word does NOT spell "Fanily".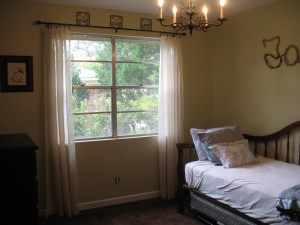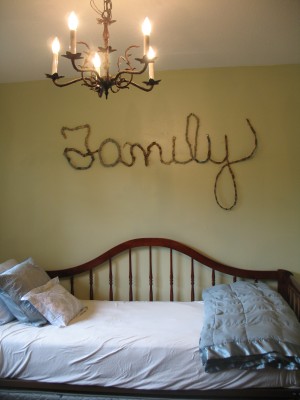 Last night was back to school night and it was fun meeting some of the other parents from Jesse's class. I absolutely love both of the kindergarten teachers and I think this is going to be a really fun year. They have a field trip planned for almost every month of the school year, sometimes two in one month! Today I ate lunch with Jesse and he chose a friend from his class to sit with us. It was a sweet time and I enjoyed getting to know Ryan, who happens to have an identical twin brother in the other class. 🙂
Tonight, I have a babysitter coming at 5:30 so Josh and I can go to a "young adults" party, hosted by…a young adult from our church. I'm looking forward to hanging out with some other couples and friends (that aren't couples) and just laughing having a good time without the kiddos tonight. Thankfully, we have NOTHING planned for the weekend and I'm hoping to really relax and catch up on some little things around the house that I've willingly neglected this week in order to get EVERY THING ELSE done. All in all, a great third week of school. Full speed ahead!
Happy Weekend Everyone!
~audrey