Yesterday I was wandering around our local Sam's Club, mostly on a mission for a jumbo package of toilet paper, but my stroll was liesurely as I took in all the Christmas decor and the smell of food samples around every corner. I don't buy home decor very often; it simply isn't in the budget. However, I found a bargain I could not pass up. I mean, if I hadn't gotten this item right then, I would have had nightmares for sure. LOL! 🙂 I'm pretty picky when it comes to things like wreaths, that will be displayed on the outside of my house for all to see. It's kind of like a hair cut; one of the first things people notice. I can think of several occasions when I've driven through a neighborhood, or even stood on someone's door step waiting for them to answer and thought, …"What in the world were they thinking?"…"Yikes, it looks like the easter bunny puked on a small bush and these people hung it on their door!"…Yes, it isn't always pretty.
Wreaths are expensive any way you buy them. They can be pricey to make yourself and they're ALWAYS pricey to buy, especially the really beautiful ones. So imagine my shock when I saw this wreath. Go ahead, take a good look and then guess the price. 🙂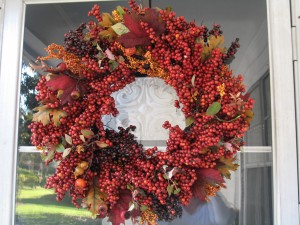 *
*
*
*
*
*
*
*
*
* TWENTY DOLLARS!!!! $19.99!!!
And the bonus: it came with it's own bronze hanger for the door!
I figure I'll dress it up with a few ornaments and a big bow for Christmas. 🙂 I'll be taking care of this one for many years to come. Fortunately, there isn't any particular time during the day when the sun is really beating on my front door, so hopefully the berries won't fade.
Have you found any great bargains recently? I haven't. That's why this one was SO exciting!! 🙂
~audrey