I have several friends who have gotten into hard core "couponing". They head to the stores, armed with their wads of coupons and knowledge of where the best deals are, and they check out with 37 items and a grand total of $2.49 due out of pocket. I'm not there yet.
However.
I have begun.
Last week, I bought not one, but two, Sunday papers and saved the Smart Source and Red Plum inserts. I will be doing that weekly. Then, last night, I realized we were really needing snacks and breakfast items, so I went to SouthernSavers.com and found that Kroger had the best deals for what I was looking for. I pulled some of my coupons from the Sunday paper and printed some from the internet (Southern Savers tells you which coupons you need and gives you links to the online coupons that you can print). I made my list strictly based on what was on sale. This was my bounty: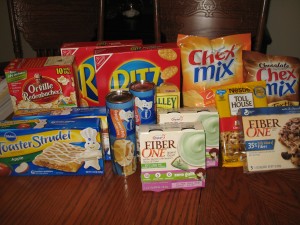 $46 worth of groceries for $24.
Everything I purchased was 'name brand' and, divided up evenly, it came out to $1.71 per item. That's excellent! Chex mix alone is over $3/bag. That big box of popcorn was originally $5! See? I'm getting more excited just telling you about it!
I had to call my friend Mary to make sure that I really had scored a deal. She confirmed that you should ALWAYS shoot for 50% or higher in savings, so my 50% savings was indeed a successful coupon-using shopping trip. Yay!! To be honest, I was quite intimidated. But come to find out, it was SO easy and now I just can't wait to find more deals and go buy more cheap groceries. Southern Savers suggests stocking up on items that are at rock-bottom prices (like your favorite box of cereal for $.75).
It is definitely going to take a little work and effort to get some momentum going, but I feel like I'm off to a good and encouraging start. I really need to make a list of things that we use most often and also a running list of things that we need as I run out of them so I know what to be looking out for.
GO to SouthernSavers.com. They spell it out for you in the simplest terms. They even have some video tutorials on how to get started. BUT, wait until the kids go to bed or down for a nap, you'll need a good hour to rummage through all the great info.
Potty Training Boot Camp: Day Four. Owen is doing great. Second morning in a row that he has woken up dry. He still won't tell me when he has to go pee-pee, but he does hold it until I take him to the bathroom every 45 minutes or so. Progress, I suppose. A weekend at Nana's should be interesting. I'm sure he'll do well.
Tomorrow is Friday!!
~audrey