I had visitation last night with the foster children and their parents. As a result, I started dinner, but asked Josh to please finish it for me. I had boiled several chicken breasts to make chicken and dumplings and I left instructions on how to finish it. When I got home, I ate the BEST chicken and dumplings I'd ever put in my mouth. No lie, Josh had perfected the broth to the perfect thickness and flavor and the dumplings were out of this world. He was quite proud and I was quite excited that I will probably never cook chicken and dumplings again; Josh will gladly do it with pride. 🙂
On another note, while we were at visitation, which takes place at McDonald's, I noticed the baby had a handful of cheetoz!! I'm suppose to be 'hands off' at visitation. My purpose is to observe and report and only intervene if absolutely necessary. So who am I to snatch the cheetoz out of the six month old's hand. The six month old who will hardly even eat baby food for me. The six month old that doesn't even have ONE SINGLE TOOTH?? Surely someone saw my jaw hit the floor, but I exercised self-restraint and stayed in my seat. No wonder he doesn't eat my baby food! His first food was cheetoz and bits of hot dog!! I understand that every mother is different. There are cultural differences, family differences, differences in parenting techniques based on the parent's age, etc. I've always been rather particular about what goes into the mouths of my babies. Oh well, surely it's no worse than my grandmother (God rest her soul) sneaking Jesse little pieces of pineapple cake at Christmas…when he was FIVE MONTHS OLD and I was strictly breastfeeding. I can laugh about those things now. 🙂
The kids are all doing great. We're enjoying a beautiful Saturday outside in this gorgeous weather. My boys are going to spend the night with Mimi and Papa tonight, so we're looking forward to a "quieter" evening with our other three.
Here is a sneak peek of Jesse's kindergarten cap and gown pics. He is now completely obsessed with wearing a tie and asks me daily when I'm going to buy him some of his own. The one he's wearing in the picture is borrowed from a friend.
Also, a pic of the Joshua at his recorder recital.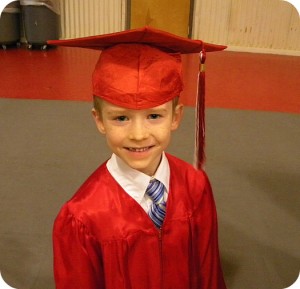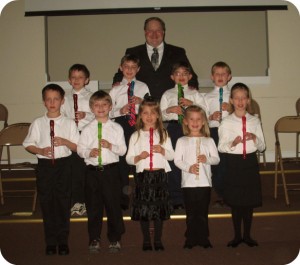 ~audrey