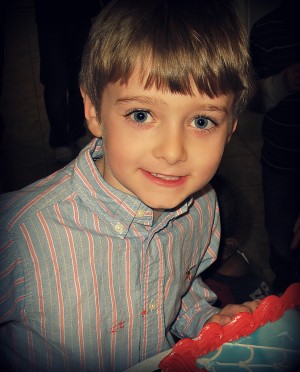 Sometimes I look at my children and still can't believe they're mine. The last eight years of my life have gone by so very fast. Josh and I recently celebrated our eighth anniversary and we were able to tell Joshua that he was our first anniversary present. We got pregnant with him three months after we got married and came home from the hospital with him on our first anniversary. What a miraculous gift. I can honestly tell you I have never once regretted getting pregnant so quickly into our marriage. We trusted God from day one and knew that He'd bless us with children in His timing.
Joshua Nicholas was born on February 20, 2003 at 5:38pm. I was induced that morning at 7am and after ten hours of labor, including two and a half hours of pushing, Joshua arrived with the cord around his neck twice, completely blue, and not breathing. Being as young as I was and being my first child, I didn't know to be scared, so I wasn't. I'd seen so many episodes of The Baby Story on TLC, I was kind of wondering where the music was?? I vaguely remember my mother-in-law holding oxygen to his nose as the nurses 'bagged him' and pumped air into his lungs. Eventually, he let out a wimpy cry and by the time they did his second set of APGAR scores, he was close to perfect. Aside from never being able to latch on, Joshua was the perfect baby.
He began sleeping through the night at seven weeks. He was always smiling and had the most beautiful blue eyes and long eye lashes. No matter what I dressed him in, people thought he was a girl, at least once a day. It was really quite ridiculous.
Joshua took his first steps two weeks before his first birthday. He's the only one of my boys that walked before they turned one. Jesse and Owen weren't until months after their first birthday!
Joshua was a small baby. At his well-child check-ups he was always off the bottom of the charts…5th and 7th percentiles for weight and height. However, he was always healthy, so the doctor never showed concern. He only weighed 18lbs. on his first birthday. But now, at seven years old, he's a normal seven year old boy. He weighs about 55lbs. and is over 4ft. tall. I often have to remind myself how old and mature he is. I'm finding myself talking to him a little differently. He understands so much and handles things like a typical first-born. Joshua is definitely a leader. He enjoys helping around the house, doing chores, "managing his money" (haha, he's saving up for a car and is quite aware that he only has nine years left to save!), doing manly stuff with Daddy, Grandpa, and Papa, and he loves to learn.
It's hard to believe he's finishing up first grade! This is our second year homeschooling and we're still loving it. Joshua always asks to do math first. Some days he'll do four or five lessons in one sitting. Reading, on the other hand, has taken some extra practice and perseverance, but now that he has the hang of it he's enjoying reading all of our Dr.Suess books to his brothers…although, at the rate Jesse is learning to read, they'll be taking turns reading to Owen by the summer.
He loves using his imagination and going on wild adventures in the back yard. He takes a music theory class on Thursdays and is learning to read music and play the recorder. His first recital was last Thursday and they did an excellent job. I'm so very proud of him.
His newest interest is LEGOS. He got quite a few LEGO sets for his birthday, and the very next week, he and his brothers were invited to attend a LEGO club at a local church. Josh took all three boys and they had a blast. That will definitely be something they do together on a monthly basis.
It is a joy and honor to be raising this Godly young man who will be a vital part in the kingdom of God. Joshua and Jesse will be getting baptized on Sunday. I am still amazed at my boys' yearning to ask Jesus into their hearts. Joshua did it at VBS last summer and I had the privilege of praying with him.  Jesse actually stopped me in the middle of our bed time prayers several months ago and said, "Mommy (with frustration), when are you going to help me ask Jesus into my heart??"  We prayed right then and he simply smiled, as if he'd just been waiting for the right moment.   The best part is, Josh will be baptizing them both.  I hope I can hold it together long enough to take some pictures and video.
Okay, this post ended up a lot longer than I had planned, but here are some pics from his birthday: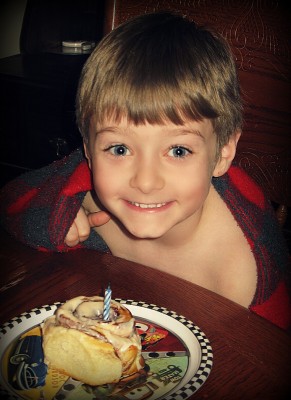 Here is Joshua eating his traditional birthday cinnamon roll with a candle on it.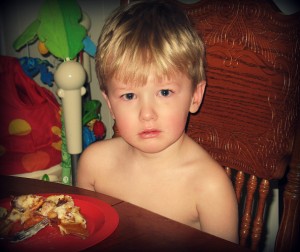 Owen was probably crying because he realized this day wasn't going to revolve around him! Poor kid.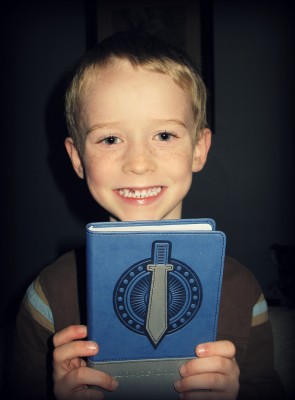 Jesse is holding Joshua's new Bible that we got him for his birthday. Jesse was so proud to wrap it for him.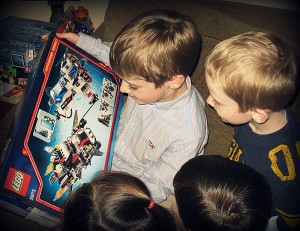 It was so fun to watch him open all of his presents as he read some of the cards himself and was so gracious to his friends and family. Not to mention the excitement over getting so many great new things.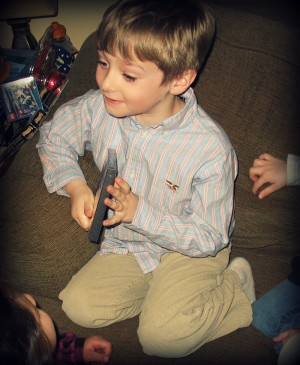 I love the look on his face in this picture. He was so excited and wrapped up in the moment.
Joshua, we are so very proud to be your parents and we pray that God would continue to give us wisdom to raise you to your fullest potential and destiny.  May you always seek the Lord in all that you do.  I pray you'd have eyes to see what God is doing here on Earth, ears to hear the voice of the Holy Spirit, and boldness to carry His light everywhere that you go.  We love you Joshua!
love,
Mommy and Daddy.
~audrey