Do you remember when we were kids and there were certain things, items, or events that made us jump out of bed in the morning, excited for the day? I can think of a few examples:
Christmas morning
a field trip to the zoo
the first day of school
the last day of school
my birthday
the day I was going to get my driver's license
These days, it doesn't take any Earth-shattering events to get me excited and fill me with joy, but not a whole lot makes me jump out of bed in the morning. I like sleep. I love my bed. I have really great sheets (that I bought at Ross' for $29!). I feel like I haven't gotten regular, adequate sleep in about seven years; moms, you know what I'm talking about!
However, something hit me this morning, as I took the first sip of my coffee. I closed my eyes and said, "ooooohhhhhh, that's good." It was pure delight and satisfaction. I felt like I could've stayed in that chair for an hour and sipped my perfect cup of coffee. Then I realized, oh my goodness, this is probably how a smoker feels when he takes the first drag off of his first cigarette of the day. Gross, I know. But then I began thinking about other things that should make me feel like that cup of coffee made me feel. God's word, spending time in prayer, and exercising should all give me that fulfilled, satisfied feeling. My pastor, who apparently got the quote from Tim Keller, has given a perfect example of what an idol is:
"An idol is anything more important to you than God, anything that absorbs your heart and imagination more than God, anything you seek to give you what only God can give."
On a tough day, when I want to unwind, I can sit down on my bed with a basket of clean clothes and watch my favorite movie while I fold.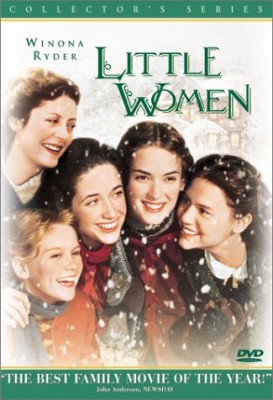 I love Little Women. I'm pretty sure it's my favorite movie of all time. I have the book as well, but have never gotten around to reading it (maybe the 1000+ pages intimidated me!) I plan to read it this summer.
More than anything, I want to re-prioritize some things in my life. I want to crave getting into God's word each morning, before I do anything else. I want to exercise, not so I can check it off my 'list of things to do', but because I crave how good it makes me feel.
To be perfectly honest, I don't even know where to start. The thought of waking up any earlier than I already do makes me nauseous. But change usually isn't comfortable, so I'm going to try hard. We'll be re-joining the Family Y next month (for the summer) and I plan to start waking up early so I can go workout. I also commit to spending time in the word first thing each morning. As some added accountability, I will add something to each day's post from my time with the Lord that morning.
Here are a few more of my favorite things; the little things in my life that give me great joy and pleasure:
*spending time with my girlfriends laughing and encouraging one another (even if we're just grocery shopping together 🙂
*tending to my garden (I love going out to my garden a few times a day while allowing the Lord to speak to me about the power of 'the seed', the law of sowing and reaping, and the importance of preparing for harvest)
*sitting down to enjoy a special drink, whether it be Starbucks, Coke (I rarely drink soda, so when I do, it's yummy!), or just a cup of coffee from my kitchen.
*cleaning my house, getting into bed after changing the sheets, waking up to a clean kitchen
*bubble baths, especially when I have time to shave my legs! 🙂
*watching my husband with our children. There is just nothing quite like a man who loves being a dad.
*hugs and kisses from my babies and seeing that look faces when they tell me they love me; like I can never do wrong in their eyes.
*reading. I love reading, but only when I get to do it uninterrupted for at least 10-15 minutes at a time.
*worship. oh how I love praise and worship.
I could go on and on, but I won't bore you. This is just what was on my mind this morning as I sipped my coffee and listened to my five-year-old read from his school book at the breakfast table.
Have a Terrific Tuesday.
Time to do school with Joshua.
~audrey