Hmm, where do I start?
My name is Audrey. I've been married to the love of my life for a little over eight years.
(unfortunately, this is NOT what I look like anymore. But hey, most of you will never know that! LOL)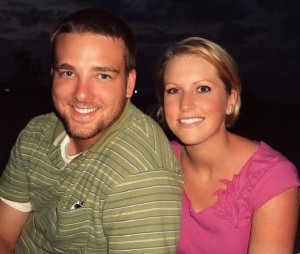 I am a stay-at-home mom, for the most part. 🙂 Josh and I are also foster parents and currently have three foster children, ages 8 months, 18 months, and six. I consider myself a professional organizer because people pay me to organize their homes, offices, and "stuff", but I do it very part-time. I love, love, LOVE cleaning and organizing. Cleaning is my vice. Some people turn to a liquor bottle, I turn to a Pinesol bottle. I am also a freelance writer for Associated Content and Text Broker…bet you didn't know that!
We have three little boys of our own.

We came home from the hospital with Joshua on our first anniversary. That's right, we had three whole months of newlywed bliss before getting pregnant! Seven months after he was born, I found out we were expecting number two. I was scared. LOL! Jesse was born sixteen months after Joshua. He's my "should've been a red-headed girl"…quite dramatic, whiney, never-a-dull-moment kind of kid, but also the sweetest and most compassionate.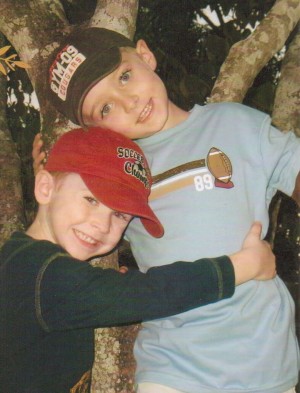 When Jesse was about 18 months old, we decided it was time for "one more". Much to our surprise, it didn't happen right away. It took us about a year to get pregnant with, you guessed it, ANOTHER BOY!! Owen is my sweet little dream baby…okay he's almost three, but he's still the baby. He has always been a great sleeper (like 9pm-10am as a baby!) and I was able to breastfeed him for almost year, unlike my other two. Now he's a giant almost-three-year-old (seriously, he looks like he's about to turn four) and just as sweet as ever. He loves giving me kisses and telling me how much he loves me. It melts my heart.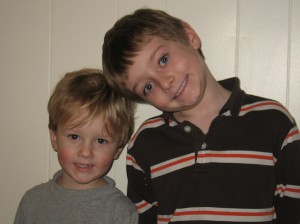 I homeschool, cook, garden, and sew. Most days, I feel like I'm stuck in the wrong time period. I would've loved to be a farmer's wife in the 1950's. I love the Lord with all my heart and thank Him daily for the blessings He has placed in my life. I love children and hope to have several at least one more, whether it be via adoption or my own womb; it doesn't matter to me.
I prefer the simple life. Very little television (we don't have cable), lots of books, playing outside, not too many regularly scheduled commitments, and lots of family time.
I love life and I don't take myself too seriously.
My motherhood motto is: Laugh it off, or be consumed! It drives me nuts when people call me "SuperMom". Let's face it, we're ALL SuperMoms!! We all cram way too much into a 24 hour period on a regular basis, we expect too much from ourselves while being overly critical of ourselves at the same time, and we all have trouble saying NO, which is why we MUST cram so much into each and every day. WE'RE ALL SUPERMOMS! Put your cape on and wear it proudly!
Welcome to my blog!
~audrey