Today is Wednesday. Our foster children should be released back into their parents' custody after their hearing on Monday (11/1). That will mark the end of our journey on the foster parenting road; at least for a while. Eight children in twelve months has exhausted me. It has also shown me that I need to be putting 110% of myself into my children's home education in this season of our lives and that is just not possible with two or three foster children in our home. Maybe when the boys are older and can work well on their own, but not now in these crucial early years. I feel like God has really prepared my heart for the end of this season. I'm ready. I'm ready to reclaim my house, which has been set up like a motel for the past year; borrowing furniture from friends, putting walls up where there use to be no wall so a sixth child can have their own room. Not to mention, the placement we have now come from a very good family who simply made a bad decision and got caught. I've gotten to know the parents quite well, they've worked their tails off getting everything done that was required of them to get their children back. That makes the process easier on my heart and mind.
On another note, I finally got a new dishwasher. Hand-washing dishes a few times a day for a family of four or five may not be that big a deal, but hand-washing dishes four or five times a day for a family of seven was no picnic. My hands were raw, cuticles bleeding, and knuckles cracking. Apparently I could not have been Laura Ingles Wilder afterall….although if I remember correctly, they all drank out of a ladle sitting in the water bucket and had only one dish each, so maybe I'm selling myself short. I was an old school cafeteria worker for three weeks, but I have now moved back to civilization and boy is it good!
I researched and researched dishwashers. I combed through Consumer Reports and every major appliance store in a 30 mile radius. You see, my house was built in 1971. My hot water heater is 27 years old and going strong. They just don't build appliances like they use to and I am not going to buy another dishwasher in five to seven years (THAT is the average life expectancy of dishwashers nowadays!). The bottom line was that I did not have $1000 to spend on a dishwasher. What I found was this: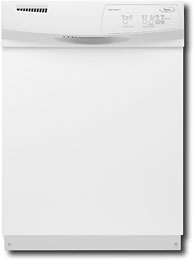 The Whirlpool Quiet Parter I. It had very good reviews on all the sites I checked out and it was on sale at Best Buy for $250! As an added bonus, my handy hubby installed it himself (I'm still wondering what he's going to do with our old dishwasher and the giant box that the new one came in that are still sitting in the garage). I'm not sure how old our old dishwasher was, but I'm guessing 10-15 years. It was a bottom of the line–no buttons–just turn the dial to ON and walk away as your house fills with the noise of your dishes being cleaned. The new one on the other hand, quietly cleans every dish and every glass (even with baked on rice!) and the rinse aid brings them to a nice shine before the cycle is finished. It even has a 'one hour cycle' for when you're in a hurry. Thank you Lord for my new dishwasher!
Yesterday was the last day of CC in which we'd be toting two extra children. They always leave half way through our day to go to visitation and therefore, Tuesdays have become my favorite day of the week. We come home from co-op and the boys shut down. They have lunch, clean their rooms, and then watch movies and chill out for the rest of the day. This is great for me because no one is running around and demanding my attention, so I'm able to clean clean clean until my little heart is content. That is exactly what I did yesterday. By the time Josh got home, the house smelled divine, supper was on the stove, and everyone was happy. I had my final night of Bible study last night and I ended up going with no make-up on and my hair pulled back and held up by a Christmas pencil with a bright green eraser topper on it. It was a lovely sight, I'm sure. But I didn't care: My house was clean!
I have quite the to-do list going for next week when the children leave. I'll fill you in on that later. Time for school.
Happy Wednesday!
~audrey