We had a wonderful Thanksgiving. We left for my parents' house on Wednesday and they treated me, Josh, my brother, and sister-in-law to a double-date that night. We ate sushi and went to a movie. It was SO nice to be out with only adults and have uninterrupted adult conversations…and really good sushi!
Thursday of course was the big food day and that was spent at my parents'. Since my mom is still recovering from her back surgery, my sister-in-law and I took on most of the cooking. My dad smoked a big turkey breast and cooked a small ham. Laura and I made macaroni and cheese, broccoli cheese and rice casserole, stuffed squash, and sweet potato casserole. The entire day was relaxing and enjoyable.
On Friday we packed up and headed to Josh's parents' house out in the country. Josh's dad lost his job as a music minister two years ago. He found a new job about three months later but it simply wasn't enough to maintain their budget. Their home has been on the verge of foreclosure for a year now. They've had it up for sale for over a year. If it doesn't sell by January 4th it will be auctioned off as a foreclosure.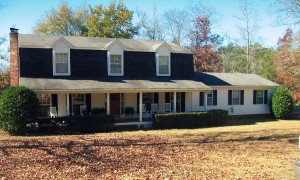 The Wilkersons have lived in this home for 18 years. It's a beautiful white house with four bedrooms, three and a half bathrooms, and a mother-in-law suite including a kitchenette nestled on ten acres with two ponds. Believe me, if Josh and I could have sold our house and afforded a $250K mortgage we'd have done it in a heartbeat. It's home. It was a very bittersweet time at their house. The entire family took one last walk down to the ponds, the boys climbed their favorite tree, threw rocks in the water, and simply remembered the last 18 years.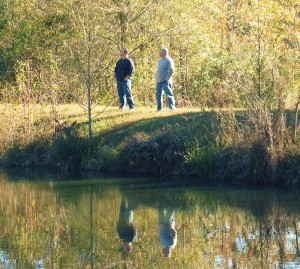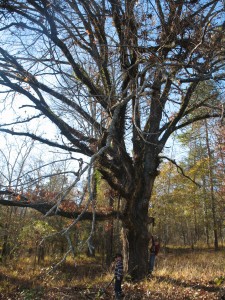 Camping, fishing, birthday parties, a rent-free apartment while Josh finished college, and home to some of my favorite memories over the last ten years; their house will be dearly missed. Through it all, God has been faithful to provide and Josh's parents have stood firm in their faith knowing God would never leave them nor forsake them and He will ultimately lead them to their new home in the next few weeks.
It was wonderful having Josh's older sister Mandy, her husband Matt, and their little girl Lucy down from Atlanta. Lucy and Owen are only five months apart and we celebrated her third birthday the day after Thanksgiving. They could be twins. I certainly wish they saw each other more often.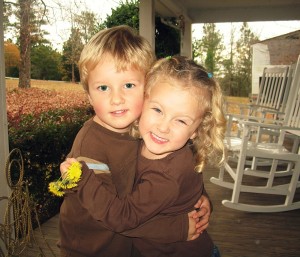 On Saturday we headed to the Christmas tree farm to cut down our tree. This has become such an incredibly enjoyable tradition. Every single year we head out to Clark's Hill Christmas Tree farm the weekend after Thanksgiving. The all load up on the hay ride and the tractor driver drops us off at just the right spot to pick out our tree. Once the tree is cut down, shaken, and netted we all sit down to enjoy hot chocolate, hot apple cider, and boiled peanuts. The kids take pictures by the big Christmas Tree that shows how much they've grown since last year and the little ones love the bean bag toss. When it's time to check out the cashier gives everyone in the family a miniature candy cane and we head home to decorate the tree.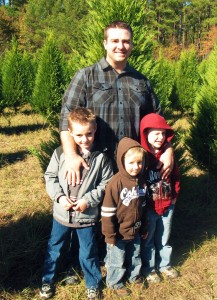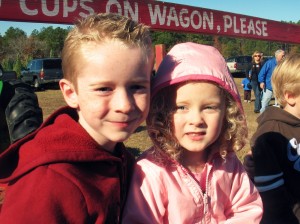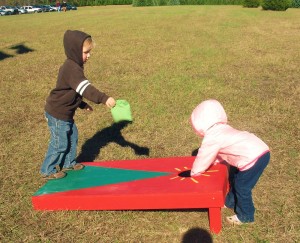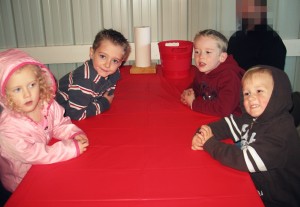 Jesse with Josh's younger sister, Erin.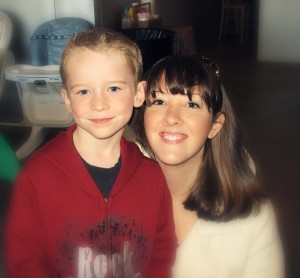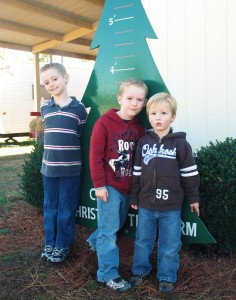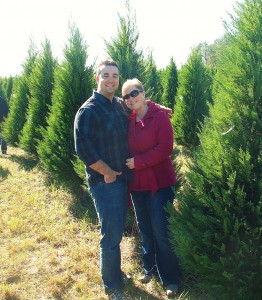 I'm amazed at how relaxed I am now that the foster children have gone home. I haven't officially resigned yet, but I plan to by the new year. I can't explain to you just how wonderful it is to just be back to "our" family again. Even daily tasks like laundry, dishes, and preparing dinner are so much more enjoyable now that the stress level in our home has flat-lined. The constant feeling of being overwhelmed has completely left me. I just can't put it into words. I'm so thankful for the season we spent in foster parenting, but I'm also thankful to be moving on.
God is so good.
~audrey