What a whirlwind weekend if ever I've had one!
Tara and I had a wonderful time traveling; catching up and laughing so hard we almost wet our pants a few times…you know that's not hard to do after having a few children!
A lot of these pictures are blurry since neither of us brought our cameras so we were snapping everything with our phones. 🙁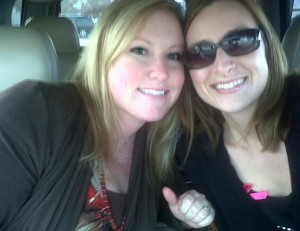 I don't even know where to start regarding the conference. I'm going to have to break it down into a few different posts. Our hotel was .4 miles from the conference center so we walked to and from and that was quite nice. We were shocked at how many homeless people were on the streets of Birmingham late Friday night as we went out to get dinner after the conference. We prayed that God would protect Tara's car over night. Imagine our shock when we put our luggage in the car the next morning and two cars in front of us had their windows busted out. Our hearts were broken for the women who had their weekends disrupted by such violation and we were equally grateful that God chose to protect our vehicle.
There were 13,900 women at this conference. You can only imagine our worship time with Travis Cottrell when the band stopped playing and 13,900 women were singing the chorus to Revelation Song.
Oh.My.Goodness.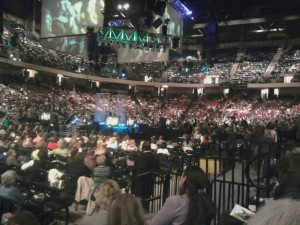 I knew there were quite a few bloggers at the conference, and by that I mean bloggers that I follow; well-known bloggers in the Christian "mommy" community. One blogger in particular that I was really hoping to see was Kelly Stamps from Kelly's Korner Blog. There was not a whole lot of hope in finding her out of almost 14,000 women, over half of which were blondes!
On the last day of the conference there was a memo on the big screens: Siestas please meet at the sound booth following the conference. If you aren't a Beth Moore blogger you wouldn't have any idea what that meant. But about 80 of us knew who that was referring to and we excitedly gathered around the sound booth and waited….and waited…and waited. We even got to speak with Priscilla Shirer as we waited!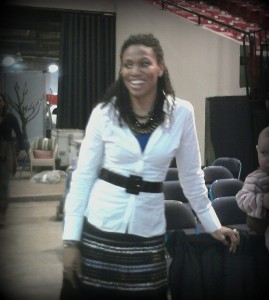 Finally we were shuffled down a long hallway with Beth Moore at the end. She spoke to us in groups of 20 or 30 and we took several group pictures with Beth. She should be posting them online soon and we'll be able to link you to them. But even more exciting than that, after all of the Beth Moore hustle and bustle and excitement, Tara and I were heading for the exit and I squealed: "There's Kelly!" Of course I introduced myself as a reader and we took a quick picture.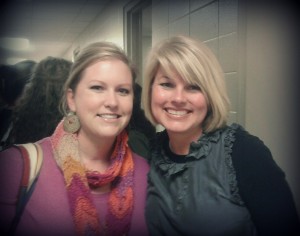 Thank you Kelly for being so sweet to the strange blonde in the hallway! It was so fun to meet you. Blogging has definitely created an indescribable sisterhood of godly women sharing life with one another.
We got home Saturday night around midnight. I didn't have a key so I had to go to the back yard and bang on our window to wake Josh up and let me in! It was quite a sight.
Sunday was crazy, busy. Church, lunch, Christmas rehearsal, short nap, and off to our shift on Extreme Makeover Home Edition.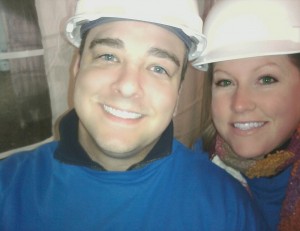 It was windy and 40 degrees. There were way more volunteers than there was work. At one point, I think the big guys were just trying to think of work to keep us busy, so they had us form a big line of about 20 volunteers and we created an assembly line passing bricks across the build site onto a pallet. This picture is horrible, but you get the idea: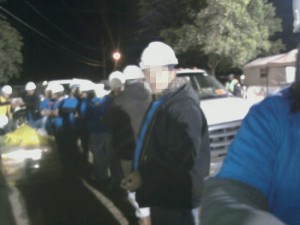 Here are a few pics of the unfinished house: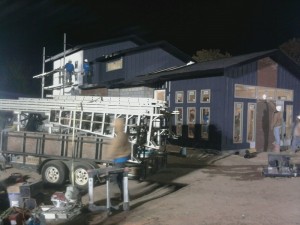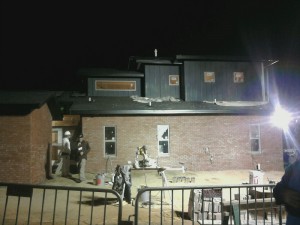 This is a very poor neighborhood and ABC is doing incredible things for many of the neighbors in addition to the recipient of the makeover. Many homes have received a new roof, new windows, new doors, and even brand new washers and dryers! Way to go ABC! What an incredible gift to the community.
We got home and were in bed by 1am. We didn't end up having to stay for the entire shift since there were so many workers sitting around doing nothing. Imagine my utter relief when the twins' mom text me at 7:30am to tell me one of the girls has pink eye so she was keeping them home today. I slept in until 9am and finally got up, very sore and with a splitting headache. I'm looking forward to going back to the build site tonight with Ashley for just a few hours.
It was such a blessing to have the entire day to catch up on house stuff. I cleaned for a while and the boys and I spent about an hour and a half reviewing first semester memory work, as well as a little spelling and math. I may even try to get a nap before preparing dinner. More pictures tomorrow! It sure is going to be cold tonight!
~audrey