We awoke this morning to 4″ of snow with the sleet still falling. The twins' mom doesn't have to go in to work, so she's not bringing them, and Josh's office is closed as well.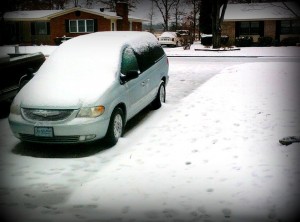 Everyone piled into our bed at 8:00am to watch the weather channel. Whole wheat French toast, boots, hats, gloves (or "gwubs" as Owen says it), and the kids were out the door to play in the frigid mess. I knew the continuing sleet meant it was probably pretty wet out there; not the soft powdery snow we had last year around this time. What a treat to have so much snow in Georgia in the last 18 months. And by so much, I mean two significant snow falls. 🙂 Before last year's snow fall, the boys didn't believe that God EVER made it snow in Georgia. They've been pleasantly surprised.
Josh and I were awake until 1:30am watching movies and constantly looking outside to watch the snow and wind as the winter storm finally arrived in Augusta.
Our house is quite cold. Even with the heat on 70 and space heaters in the living room and bedrooms, our 40 year old house with poor insulation, single pane windows, and badly sealed doors allow for a constant draft of cold air when you get close to any exterior walls.
It will be a wonderfully lazy day today at Wilkerson Academy. This morning, as we read all of the school closings on the news, the boys dropped their heads and said, "Man, I wish we had to drive to school so we'd have a day off!" Trust me boys, I don't intend to have a full school day today.
I may get on the treadmill at some point to try to work out these sore legs, we'll do some reading and prepare for co-op tomorrow, but other than that we'll enjoy a lazy day just like the rest of Augusta.
Happy Snow Day!
~audrey