God has been working in our (mine and Josh's) hearts for the past few weeks.  My heart has been completely torn up for Africa since God directed me to the blogs of Christie and Katie.
Let me retrace our steps…
We settled on an adoption attorney in South Carolina for various reasons and anxiously awaited all of our paperwork.  Two weeks have passed and we have yet to receive anything from the attorney's office.  Our foster agency was going to go ahead and send our home study to the attorney's office, but the girl who was going to put it in the mail was out for a few days last week because her children were sick….
ENTER:  GOD….
On our way to pick up the boys from my parent's house on Sunday, Josh began asking me questions about the whole adoption process and whether or not I was sure about the road we were taking (domestic adoption).  I told him I was still praying for every step of the journey and that if he had any reservations he needed to speak up.
He began telling me how he felt about domestic adoption after all that we've learned in the past month.  Domestic adoption has long lines of couples without children, waiting to get the call that there's a baby for them at the hospital.  Basically saying that all of these babies will have a home and a family.
This is where he shocked me.  He went on to say that he feels a family like ours (already having three biological children and wanting who-knows-how-many more) should be rescuing babies from orphanages in third world countries where there really is no promise of a home or family.
That's when I hit him with the question that was just DYING to come out of my mouth:
Do you mean we can go to Africa!?
This is where my heart was thumping out of my chest and God just confirmed every ounce of anguish I'd been feeling inside for all of those beautiful African faces that I see each time I close my eyes.
Oh Lord, did you really change his heart THAT fast!?
Indeed He did.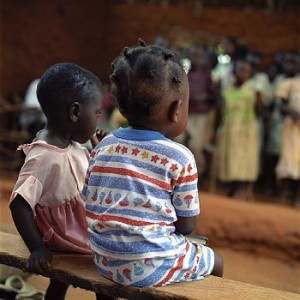 We spent hours on the computer with the boys that night watching videos of African adoptions, learning about the different villages where God has sent missionaries, and researching agencies who work with Africa.  We found All God's Children International and completed the pre-application to see if we meet their requirements.
Today at 2:37, I got a call from AGCI to let us know we're approved for their Ethiopia program!  We're going to have to wait a few months before submitting our official application because approximately $9,000 will be due within 90 days of applying.  We're working hard to continue paying off debt and will begin to sell everything that's not nailed down in order to raise the first $9,000 and get the process going!  I have complete peace for the road ahead and I'm overjoyed and excited to watch God move in our journey to Africa. We will begin our fundraising right away in the form of yard sales, Parents' Night Out events, and selling hair bows that I began making back when we were trying to adopt our two little girls out of foster care.
Please continue to pray for us in the months ahead.
We give God all the glory and continue to seek His wisdom and direction every step of the way.
~audrey