**Please Check out our NEW Bows for Life page!!  My wonderfully, amazing husband created an order form….no more having to type out your orders.  Now you can get very specific with the click of the mouse.  🙂  If you have any questions, feel free to contact me!  Would you consider linking our Bows for Life page to your facebook or blog?**
Adoption is the gift of life.  Each and every child that has ever been adopted or is available for adoption is alive because their birth mother chose life.  I am so grateful to those women who make a selfless choice and give their child a chance at life.  My husband chose our daughter's first name and it happens to mean LIFE as well.  Zoe Ameris means "Life, Promised by God."
As a result, we've named this fundraiser Bows for Life.  All of these bows are made with grosgrain ribbon.  I use alligator clips lined with 3/8″ coordinating grosgrain ribbon.  Most of the clips are only partially lined; meaning the top half of the clip, where the bow attaches to the clip is lined, but the bottom half (the part that goes into the hair) is unlined.  I am more than happy to make your bow exactly how you prefer.
We will be selling these a few different ways.  You can host a Bows for Life party at your home or church and I can come and share our story and have all of my bows available for immediate purchase.  You can contact me with your order and address, add $2-$5 for shipping (depending on the size of your order) and pay through the donate button on the right; your bows would arrive to your door in about a week (depending on your order).  And lastly, for my local people, you're more than welcome to schedule a time to come by and shop right out of my home.  All I ask is that you give me 24 hours notice so I can vacuum and light a scented candle before you arrive!  If you have any questions at all please don't hesitate to contact me.  If you don't see a color you're looking for, just let me know and I can probably get it within a few days.
If you choose to order online please include the following in your order:
1.  ribbon color
2.  bow size (itty-bitty, small, medium, or large)
3.  what color ribbon you want your clip lined with
4.  whether or not you want your bow to have the "tails" or not (see the difference between the medium and large bows in the collage)
5.  whether or not you'd like the center with or without a knot.  The itty-bitty bows look best with the knot in the center because the bow itself is so little (again, see the difference between the medium and large bows in the collage).
Most of the mini clips are about one inch in diameter.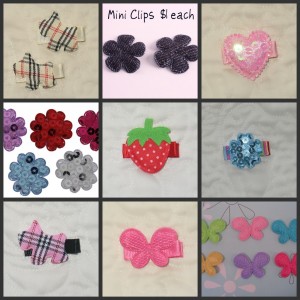 Fabric Applique Options:
Sequin Heart:  hot pink, light pink, red, white
Sequin Flower: fuscia, red, white, blue, purple   (**I am currently out of the blue and white sequin flowers**)
Butterfly: yellow, light pink, hot pink, blue, green
Scottie Dog: light pink, light blue, cream
Denim Daisy
Strawberry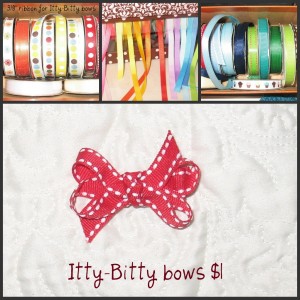 Itty-Bitty Bow Ribbon Options:
(3/8″  ribbon; bow is 1 1/2″-2″ wide)
white, ivory, light pink, pink, hot pink, lemon, yellow, gold, orange, red, light orchid, grape, light blue, turquoise, porcelain blue, cancun green, apple green, brown, black, cupcakes, earth tone flowers, orange polka dots, jewel tone dots, yellow polka dots, earth tone dots, red polka dots, red stitched (shown), blue stitched, light blue, navy, lime with pink stitching, parrot green, brown with multi-colored polka dots, black stitched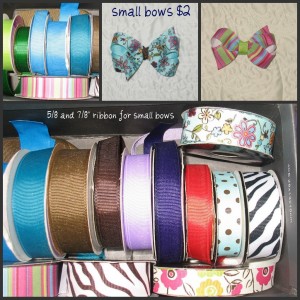 Small Bow Ribbon Options:
bow is 2 1/2″-3″ wide
(5/8″ ribbon)
blue with brown dots, red, light purple, dark purple, brown, mudpie, teal, island blue, light blue, emerald, lime green, giraffe, hot pink, orange, pink/orange flowers,
(7/8″ ribbon)
blue/multi stripes, brown zebra, black zebra, white, blue floral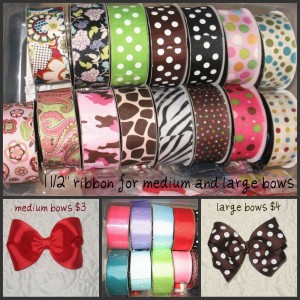 Medium and Large Bow Ribbon Options:
(1 1/2″ ribbon; medium bow is 3 1/2″-4″ wide and large bows are 4 1/2″-5″ wide)
Solids:
white
black
light pink
hot pink
yellow
lime green
red
light blue
teal
Polka Dots:
brown with small multicolored dots
cream with green and blue dots
cream with earth tone dots
hot pink with green, brown, and light pink dots
pale purple with pastel dots
Animal Prints:
brown and cream giraffe
black and white zebra
Other:
pink camouflage
Light pink with mod flowers in pink, brown, and green
Black with cream, purple, and lime green flowers
Red with big retro-looking flowers in cream, cobalt blue, deep orange and rich yellow
Cream with multi-colored graphic flowers and leaves
Green and pink paisley
(not all of the ribbon is shown in the pictures)
I can add any of the fabric appliques from the mini clips or the resin appliques seen below to any medium bow.
Here are all four sizes for comparison: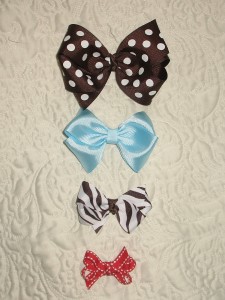 These hand-sewn fabric and crochet flowers are attached to an alligator clip. I can use just about any fabric. You can even provide the fabric if you'd like. I'd need about 12″x4″ of fabric for each flower.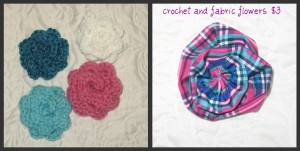 Please share this link with all of your friends who have daughters, granddaughters, and nieces.  100% of the proceeds will go directly to Zoe's adoption fund.
**All of the ribbon and appliques are subject to change if I run out at any time and/or am unable to reorder.  I will try to update this page as soon as possible if this ever happens.**
Blessings,
audrey