Now taking pre-orders for our new Bows for Life t-shirts!!  They will be sold in ladies fit (not "fitted"), infant, toddler, and youth sizes.  We will take pre-orders from now until June 30th and will place the order on July 1st.  Individual shirts will continue to be sold on our website after the first initial pre-order.  To pre-order, simply click the "donate" button and pay through Paypal or by credit/debit card.  Adult shirts are $25 and youth and children sizes are $20.  Don't forget to make note of what size(s) you need.  Please pass this link along to anyone who might want a t-shirt while also helping us bring home baby Zoe!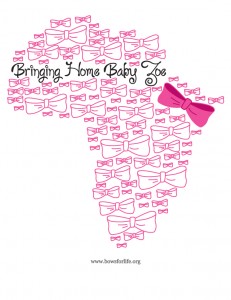 I think Josh did a great job designing this shirt!  Every infant, child, and youth shirt ordered will also receive a matching pink hair bow from Bows for Life.
Will you help us spread the word?
~audrey