After watching the documentaries, "Fat, Sick, and Nearly Dead" and "Food Matters", Josh and I decided to embark on a 10-day juice fast.  On a perfect day we consume four 16 oz. servings of juice and lots of water.  The juice is mainly the recipe given in the documentary:
Mean Green Juice
1 bunch kale
4 stalks of celery
1 cucumber
2 granny smith aples
½ a lemon
ginger root
Surprisingly, it's not bad.  We also bought a few bottles of Green Machine by Naked Juice.  It contains apple, banana, kiwi, mango, broccoli, spinach, spirulina, chlorella, blue green algae, and garlic.  It is actually delicious!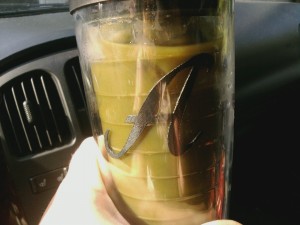 We're planning on trying a homemade V8 juice for lunch.  We found a good recipe on food.com.  The documentary also inspired us to make sure we're not taking the easy way out in regards to what we feed our children.  Overall, our kids eat very well.  They'll eat salad, Jesse and Owen like sushi, they always eat their veggies, and consume at least two servings of raw fruits and veggies each day.  However, as we make a few changes around here in efforts to get our bodies to optimum health, we're going to shoot for 51% raw on a daily basis even when the fast is over.  Breakfast will likely consist of a smoothie or raw fruit.  This morning the boys had a smoothie made of:
2 cups of spinach
1 banana
1/2 cup blueberries
8 strawberries
This recipe was enough for them to have about 8-10 oz. each.  The best part is, they know the spinach is in there and that it's very good for them whereas before I would try to hide it.
Lunch will likely be a salad, veggies with homemade hummus, fresh juice, or maybe even another smoothie.  And dinner will be cooked.  I'm already looking forward to trying a chicken marsala recipe I found recently but plan to substitute the chicken for portobello mushrooms.   We're not aiming for perfection, but we do believe that God created our bodies to be able to heal itself when being nourished properly.
Food Matters was an excellent educational documentary.  I highly encourage you to watch both, but Food Matters really opened our eyes to which foods and vitamins best assist in the healing process of different diseases and ailments.  Watch it!  They're both "watch now" movies on Netflix if you're a member.
I started the fast Thursday at lunch and Josh joined me Friday morning.  This afternoon will start day three for me and I'm feeling great.  Yesterday was tough.  I wanted real food and I was very tired in the afternoon.  Thankfully, I haven't been drinking caffeine for several months so I haven't had to deal with caffeine withdrawals which I hear are pretty rough.  I was able to take a three hour nap yesterday afternoon and was good as new for the rest of the day.
I'd really like to read the book "Made To Crave" while in the midst of this fast.  I've heard it's excellent and really deals with our addiction to food.  It's so sad to think about how addicted we are to food.  I even got sad last night when I thought about waking up Saturday morning and not making a big breakfast for my family.  I can practically smell those homemade buttermilk biscuits.  But instead, I woke up, made a large pitcher of our green juice, prepared the boys' smoothies, and poured Pinesol in all the sinks and toilets.  Time to put this energy to good use!
I look forward to recording our progress throughout the rest of this fast.  I'd be lying if I didn't tell you that I look very forward to my first meal when it's over.  I hear days four and five get a lot better.  We'll see!
~audrey