It has been ages since I've put my creative juices to use….or even produced any creative juices!
Today I went to Hobby Lobby and got what I needed to make a fall wreath.  My house is pretty bare now that we've moved the furniture into the addition.  The front room (formerly the living room) is empty except for the piano, which I very happily moved out of my dining room.  As of yet, there is nothing on the walls or windows in the addition and I was feeling the urge to accessorize on a super small budget.
All of Hobby Lobby's floral and fall decor is 40-50% off right now.  I got a twig wreath and a few stems from the floral department and voila!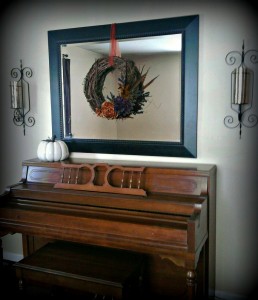 I got this idea on Pinterest.  I'm thinking I should have gotten the wreath that was the next size up, but it'll work for now.  I'm already super excited to make one for Christmas.  The white pumpkin on the piano is actually what inspired the orange and purple color palette.  I saw this white ceramic pumpkin and I absolutely loved it.  As I got closer and picked it up, I realized it had two beautiful, metal leaves coming off of the stem.  The leaves are deep purple.  It's a little strange; not normal fall colors, but I went with it and I'm quite pleased with the outcome.
I hope you're feeling inspired as fall starts to creep in with refreshing breezes, colorful leaves, and pumpkin stands on every corner.  I'm trying to savor each day.  Fall seems to be the season that passes the quickest.
~audrey