Hopefully by now, you've had a chance to either look at a copy of my European and World geography cards or you purchased them yourself!  I have worked extremely hard on these maps and cards and it is such a joy to see them come to fruition and see them used and loved by fellow CC families.
The fact that this has all happened at the tail end of our adoption has been completely providential.  Just a couple of months ago, we had about $5,000 left in fees and travel expenses.  My European and World geography cards have sold to CC families in every single state in the US as well as several countries abroad.  I have received many positive reviews from families who have said these cards have helped their five year old better understand the geography portion of their memory work.  I've even heard from Challenge parents who are using my cards to help their middle and high school Challenge student.
My husband and I were scheduled to leave for Africa on October 6th, but due to some political unrest in the Congo, we had to delay our trip by two weeks.  The delay also added more expenses to our bottom line and that was discouraging.  Suddenly, I realized I had two extra weeks to finish my cycle one-related geography cards and make them available for purchase.  These cards will be great to use when reviewing your geography from last year as well as preparing for your next round with cycle one. I simply created these for my children last year to help us master our geography at home and in class with my abecedarians.  They were a huge success and I wanted to make the same resource available to other homeschool families as well.
Most important thing to note:
**Each card is labeled with the location, but there is nothing referencing a cycle or week anywhere on the cards because I don't want to infringe on any copyright laws and get CC corporate on my hiney.**
Second most important thing to note:
**All proceeds will go toward our remaining adoption expenses.**
I must tell you, I originally planned to sell the download for $10.  It took me weeks to finish these, they're in color, labeled, ready to print and use.  But then I started to think about the fact that you still have to print them, fold the labels over (each map and label are side-by-side so you'll fold each label over to the back after you print).  You may also choose to glue the entire thing to a 3×5 index card for better durability, and if you're like me, you'll laminate the finished product!  Therefore, I'm only asking $5.
These cards may also be printed in black and white or grayscale to save money.  We have an InkBoy near our house and they do $.01 black and white copies if you bring your own paper.  But I must say, the color adds a lot to the cards.  The only color is the water and the small location in red or yellow on each card. If you'd like an example, you can click here to see my European and World Geography post.  Here is what the finished cards will look like (these are my previous set:  European and World Geography)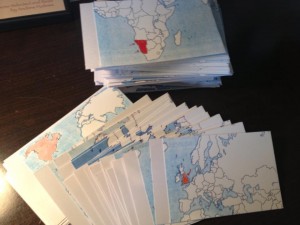 Will you please help me spread the word about my new cards?  We leave in eight days to bring our daughters home–FINALLY!!
One last thing:  How to purchase.
You can pay using the donate button on the right side of the screen.  Please use the memo/comment box to note the email address you would like me to use when I send your download.  If you would like for me to do all of the work for you, I'm happy to send you color, laminated geography cards for $35, including shipping.  However, since we are about to go from three children to six (three of which do not currently speak English), and we homeschool, I'm going to need to ask for a grace period.  If you'd like for me to send you a set of completed geography cards, I will need four weeks from your date of purchase to complete and ship them.  Ask someone who has purchased the download and done the work herself:  It's definitely worth paying someone else $35 to do it for you!
Please feel free to contact me via email with any questions related to the cards or our adoption.  audrey@madetoorganize.com
God bless!