What a wild weekend it has turned out to be.
I was awakened Saturday morning by a phone call from my mom.  She was in North Carolina visiting my brother and sister-in-law while my dad was in Atlanta with the Army reserves for a few days.  He's being deployed to Iraq for three months so he was tying up lose ends and meeting some of his team for the hospital in Iraq.  Saturday morning he woke up and checked out of the hotel.  He walked outside, looked around…
His truck was GONE.  We're not talking about a little pick-up truck with a stick shift.  This was a 2009 Ford F250 4×4.  My dad had packed the truck the night before so all he'd have to do is check out in the morning.  Therefore, his suitcase, GPS, his gun, all of his clothes, army gear, dental and medical records from 17 years in the army, all of it was gone.  When the police reviewed the surveillance tapes, they saw three men with a tool bag break into the passenger side door, break the steering wheel, hot wire the truck, and drive off in under 90 seconds.  Unbelievable.
My dad was stunned and shocked and even asked one of the officers:  There were Corvettes, BMWs, and SUVs in the parking lot, why would they want my big truck?
Surprisingly, he was told that four-wheel drive trucks are the hottest commodity on the streets of Atlanta right now.  They steal them and use them to rip out air conditioning units and strip the units for copper, they drive them into the front of convenience stores, strap a chain to the back of the truck and steal the ATM machines, then they strip the trucks and sell them to a salvage yard.  Incredible.
However, through it all, we can trace God's hand in it and are very thankful that no one was hurt.  My dad rented a car and is back home now.  He will probably wait until he returns home from Iraq to buy another vehicle.  It is highly unlikely that his truck will be found.
We, on the other hand, spent the day outside prepping our garden area, feeding the worms (which appear to still be almost frozen), and building our chicken coop.  This is what the end result should look like.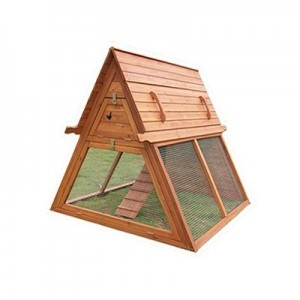 It always amazes me that Josh can simply look at a picture and replicate it. He has built our entire 20'x20′ addition on the back of our house by himself. He should have been an architect. However, his work as a graphic designer seems to suit him just fine as well. Last night we attended the ADDY Awards. This is an awards dinner put on by the American Advertising Federation. Josh's work won three bronze, one gold, and one of only four Best of Show awards. We are very thankful that God has blessed Josh with a good job and a boss who loves the Lord. It is surely a blessing to love your job.
And lastly, by the end of the night last night Jesse was running a 102 fever. This morning, Owen was coughing like a seal and Jesse was throwing up. I'm praying it passes quickly without any more captives.
Josh should be able to finish the coop this afternoon. My Sunday School leader called her brother who has a small farm in Aiken and he wants to GIVE us four of his hens. They've just finished moulting and have already resumed egg production. We're hoping to visit his farm next weekend to pick them up.  What a blessing!
Pictures to come!
~audrey